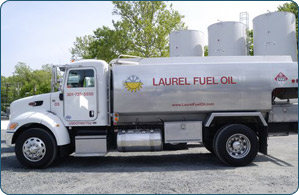 Dependable.
Knowledgeable.
Affordable.
That's Laurel Fuel Oil.
Since 1961, homes and businesses in our area have known us for delivering quality ... reliability ... and pure peace of mind - guaranteed. If your fuel supplier can't make that promise, maybe it's time to switch to Laurel Fuel Oil.
We may be one of the area's oldest and most experienced heating oil companies, but our vision is planted firmly in the future: We want to service your heating oil needs well into the 21st century.
Our Mission
At Laurel Fuel Oil, our goal is to deliver top-quality products and services ...to help our valued customers conserve energy and save money ... and to treat everyone with the care and respect they deserve. Above all, the customer always comes first.
Company History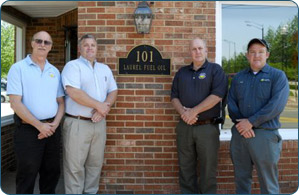 Laurel Fuel Oil and Heating Co., Inc. was started by Bob and Betty Kluckhuhn in 1961. Bob had worked for another fuel company, and Betty had worked for the Governor of Maryland. Together they decided, with their experience and dedication, to start their own company. They started out with 250 customers and within two years the company grew to about 5,000 customers. Bob believed that the customer's comfort and satisfaction were top priority. The same belief carried over to his son Richard, who started at Laurel Fuel Oil when he was still in school. Richard has done every job from top to bottom and is now the President of Laurel Fuel Oil. He can be found helping customers with their heating problems on many a cold night, answering the telephone at all hours. With over 40 years of heating and air conditioning experience, Richard is always looking for ways to improve customer service and convenience. He has seen many changes to the fuel oil industry over the years, but understands the importance of giving individual service to each of his customers. Laurel Fuel Oil has a staff of 16 employees, including 2 third-generation Kluckhuhns. The staff is committed to making sure each customer's needs are met with the same level of service as when Laurel Fuel Oil was founded over 50 years ago.
Community Involvement
As a family-owned business, we feel it is important to give back to the families in our communities. Laurel Fuel Oil is active in the following community and charitable organizations:
Operation No Person Left Behind Outdoors (Operation NPLB Outdoors)
In 2006, Operation NPLB, formerly known as No Person Left Behind, was founded as an independent charity that allows like-minded professional hunters, fisherman, and outdoor-minded people to ensure that disabled veterans always receive the best outdoor hunting and fishing opportunities.
Today, Operation NPLB aids in the recovery and rehabilitation of injured service members from all eras who must endure the lifelong sacrifices made for our country. NPLB supports injured Soldiers, Sailors, Coasties, Airman, and Marines by reintroducing them to hunting, fishing and life outdoors. Volunteers offer their time and skills to aid in the emotional recovery of our veterans through outdoor activities with fellowship and the encouragement to overcome any disability.