Our Storage Facility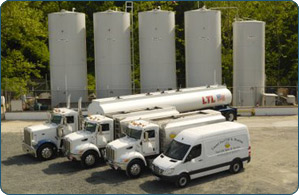 Our own 150,000-gallon state-of-the-art distribution center enables us to guarantee a constant, abundant supply of top-grade fuel oil, even during the most overwhelming cold snaps. Having our own storage facility also helps to keep our prices low because we can buy and store our fuel in bulk and pass the savings on to you.
Tank Installation, Certified Tank Removal, and Tank Disposal
Laurel Fuel Oil provides comprehensive service and installation of above-ground and below-ground residential and commercial storage systems, as well as tank testing, certified tank removal, and tank disposal. Today's oil tanks are designed with corrosion-resistant materials for long life and safety. The brands of tanks we install are listed below.
Oil Tanks
Granby

Granby Steel Tanks has been a leader in the manufacture and distribution of steel tanks for the storage of petroleum products since 1954. With recent advancements in construction and coatings, Granby now warranties its tanks for 10 years (with optional coverage for up to 25 years on select double-bottom models). Granby tanks come in a variety of sizes and shapes, and their new electrostatic baked powder paint finishes provide a clean, modern look.
Roth®

Roth Double-Wall Fuel-Oil Safety Tanks® are designed to offer the highest level of environmental protection. Each tank is actually made up of two tanks. The inner tank is made of blow-molded, high-density polyethylene that is seamless and absolutely leak-proof and corrosion-resistant. The outer tank is made of leak-proof, corrosion-resistant steel and is designed to contain at least 110 percent of the capacity of the inner tank for maximum protection. All connections are on the top of the tank, to ensure that the oil stays where it should. The shiny, steel finish gives the tanks a pleasing Euro-modern look.