Oilheat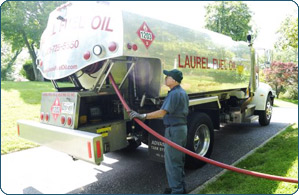 We deliver top-quality home heating oil via automatic delivery or will-call delivery. We are proud to have our own bulk storage facility to ensure an ample supply at all times and in all temperatures.

Our Oilheat contains the Fuel Right additive, which:
Dissolves away any sludge in the system
Prevents formation of new sludge
Cleans nozzles and injectors
Stops and prevents corrosion of fuel tanks
Provides lubricity and reduces metal wear in pumps and injectors
Prevents fuel line freeze-ups in colder temperatures
What does this all mean for you? A cleaner, more efficient heating system and fewer service calls. Read all about Fuel Right here.
On- and Off-Road Diesel
For your commercial needs, Laurel Fuel Oil sells and delivers quality on-road diesel fuel for trucks, off-road diesel fuel for construction equipment and generators and ultra-low sulfur diesel (ULSD). We price our fuel competitively and customize each delivery program to maximize your convenience and productivity.
Gasoline
Our goal is to get the fuel you need, wherever and whenever you need it. We deliver gasoline to service stations and trucking companies, as well as on-site. We also offer cost-effective fleet fueling - if you're now sending your vehicles to public filling stations, we can help you control costs and improve productivity by fueling your fleet at your location.